Biscuits and Gravy and other fine foods


During the mid-80's I developed an enjoyment of biscuits and gravy. I was working for a water company and routinely joined my coworkers and various UPS drivers who had made the old 88 restaurant in Clements, California a favorite breakfast stop. Sadly, the 88 is no more but while it was operating it had the finest, tastiest, Biscuits and Gravy I have ever eaten.
Since that time, using the "88" as the benchmark I have searched for the 'perfect' biscuits and gravy. Along the way I have had some that were pretty darn good and some that were an abysmal failure. For some reason, sausage is a popular base for gravy but I prefer bacon. Most of the sausage gravies are made using leftover sausage, often tasting like it was leftover from the Patty Hearst Food Giveaway! Salt is necessary I suppose but when using salty bacon and sausage I prefer the minimalist approach.
And never, ever use sugar! Pepper is good but again I would prefer to season to my taste and not the cooks. Some Philistines use Tobasco sauce as a further topping. If the biscuits and gravy are good, they need nothing else; if they are bad, hot sauce won't save them.
Gravy is of course only part of story as the biscuits also play a large part in the big picture. I had some truly delightful bacon gravy prepared by a young lady named Pert at an archery shoot near Stockton, California but it was spread over those 4 rolls for a dollar refrigerator biscuits. She told me that she refused to take responsibility for the biscuits; she would never use them herself!
As in gravy, biscuits should contain no sugar! Buttermilk biscuits, baking powder biscuits, even KFC biscuits work really well. They should be soft and tender and browned not burnt.
I have only made gravy once from scratch...tasted ok but I somehow made it way too rich and ended up getting sick to my stomach...haven't tried since. Reams Market in the Salt Lake valley offers a Western Family brand packaged Country Gravy mix which works well with biscuits with some bacon drippings added and equally well on chicken fried steak. Hostess "day-old" shops offer a Southern Mills Old Fashioned Peppered Country Gravy mix that works fairly well.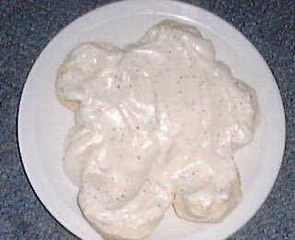 My Latest Effort--tasted Pretty Good
I have found some restaurants that turn out reasonably good biscuits and gravy:
Dee's Restaurants--Salt Lake City chain offered a Country Platter which included a pretty decent sausage gravy with good biscuits, the restaurant at 7200 South and State St. was the best of the bunch.
Nevada Landing--Casino restaurant south of Las Vegas on I-15, generous serving of a tasty cream gravy with excellent biscuits.

Denny's and Carrows--inconsistent offerings but when they are in the mood either restaurant chain can produce a fair product.
??--A restaurant in Evanston, Wyoming that is attached to a motel which offers hot tubs and off-track betting on horses but the name escapes me. It is on the left side
of the road when you take the exit off I-80 eastbound, Good biscuits and a pleasant if uninspired bacon gravy.
Kleins Truck Stop on highway 99 at the Herndon exit just north of Fresno, CA. Really good biscuits and gravy. I would order a full breakfast since they come with two biscuits and a generous serving of gravy on the side and doesn't cost much more than an order of biscuits and gravy by itself.
McDonalds--This one is really hard to believe..Who'd thunk that the Golden Arches would even have biscuits and gravy...much less that they would be worth mentioning here...But they do!!!.....First time I had them was in Mt. Stirling Kentucky...really was pleasantly surprised...very good sausage gravy..full-bodied...decent biscuit...Then in Morgantown, WVa....not quite as good but still acceptable...lastly in Gallup, NM...thinner gravy but still good flavor.
I would include a list of restaurants that have disappointed me but they might take it personally.