Family Photo's Ericksons
This page and perhaps some more to come cover photographs of my mother and her family. The Erickson's fully embraced the concept now marketed as "Kodak moments"...My mother had a Kodak Brownie which she used often and later moved on to the Kodak Instamatic...she wasn't trying for art but rather memories.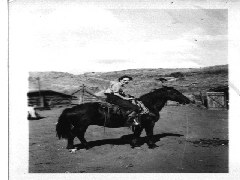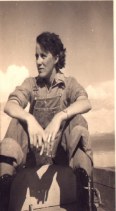 My mother on horseback and shooting a .22 in Tensleep, Wyoming On a boat at
in 1937. She grew up on a ranch in North Dakota and learned Yellowstone NP
riding and shooting as facts of ranch life. 1938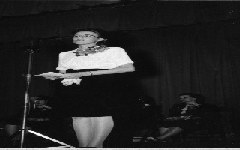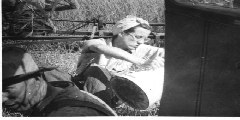 My mother was active in the Mom on a lunch break during Gus Erickson about 1950, no
Farmers Union...delivering a a round-up at her brother urban cowboy, ranched his
speech at the North Dakota Gus's ranch 1947. whole life.
Convention 1943.
The Erickson Family with neighbors in front of the "Shack" McKenzie County, North Dakota
1919. One must wonder why my grandfather uprooted the family from an established farm in Wisconsin
to move to North Dakota. I know he raised horses and trained them to work as "teams" to pull wagons, plows, etc and shipped them back to Wisconsin and did well until 1924 when tractors supplanted teams.
The shack was their only home for a number of years...wood frame covered with tarpaper. My mom has told me about how every winter manure was piled against the exterior walls for insulation.